North Carolina Opera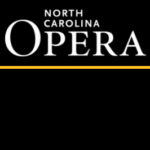 Chorus Name:
North Carolina Opera
Chorus Description:
North Carolina Opera is a new company formed from the merger of Opera Company of North Carolina and Capital Opera Raleigh. NCO will produce large, main-stage productions as well performances in a variety of venues across the Triangle. Audiences will hear singers of national and international renown, along with the finest talent from across the state. The new company will provide a nurturing environment for young singers, school-based performances, and listening and learning opportunities for all ages.