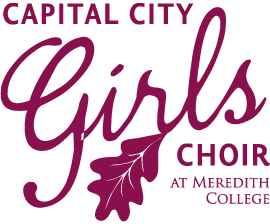 Capital City Girls Choir Auditions
The Capital City Girls Choir is welcoming new singers for Season 34! Our choir season will run from August 2021- May 2022.  Open to singers age 9 and up!
CCGC has successfully completed a season of choir during this pandemic.  We have fulfilled our mission to offer high quality vocal training, music education, social connection, and community outreach opportunities to all our students.
We hope that next year we will be able to safely return to more in person rehearsals and activities. Cantabile singers (our high school aged choir) is planning to travel to Austria and Germany in June 2022.
To join the CCGC, please visit our website to read how to prepare and make sure to register for a virtual audition! Our audition coordinator will reach out to you to schedule a time.