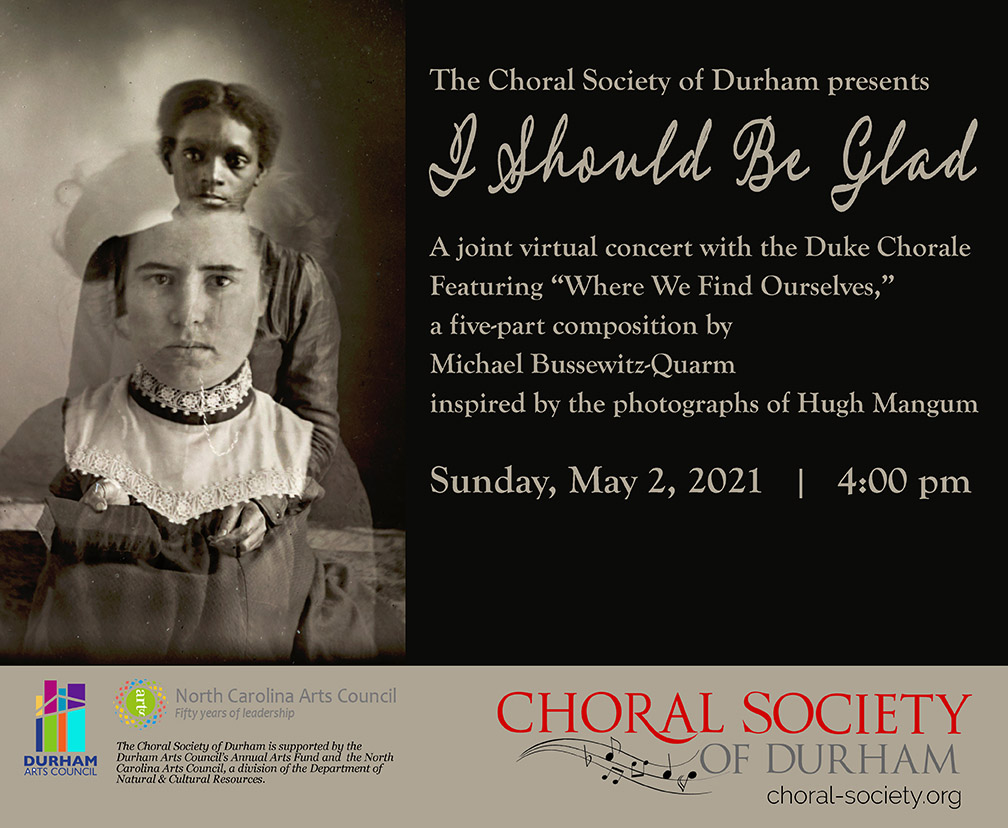 Choral Society of Durham Presents I Should Be Glad
On May 2 at 4:00 pm, all are invited to a joint virtual concert entitled "I Should Be Glad," performed by the Choral Society of Durham with the Duke Chorale featuring "Where We Find Ourselves," a five-part composition by Michael Bussewitz-Quarm inspired by the photographs of Hugh Mangum.
Closer to the time of performance, a link will be made available at:
choral-society.org/event/virtual-spring-concert
Michael Bussewitz-Quarm's "Where We Find Ourselves" is a 5-movement work jointly commissioned by a number of choirs, including the Choral Society of Durham and the Duke University Chorale. It is a reflection on recently discovered photographs made by Hugh Mangum in the late 19th and early 20th centuries in Durham and other cities in the Southeast. These photos, of both white and Black people from the community, have now been published in a book by Duke faculty members Margaret Sartor and Alex Harris. The photographs, which are part of the David M. Rubenstein Rare Book and Manuscript Library at Duke University, were on display at the Nasher Museum of Art in 2019. Michael Bussewitz-Quarm saw them when she was on campus to hear the Duke Chorale rehearse another of her compositions, "Swan Song."
CSD is grateful to our donors who make it possible for us to provide this concert at no cost to viewers.  Donations in lieu of a ticket charge will be greatly appreciated. Please visit: Choral-Society.org/Donate.