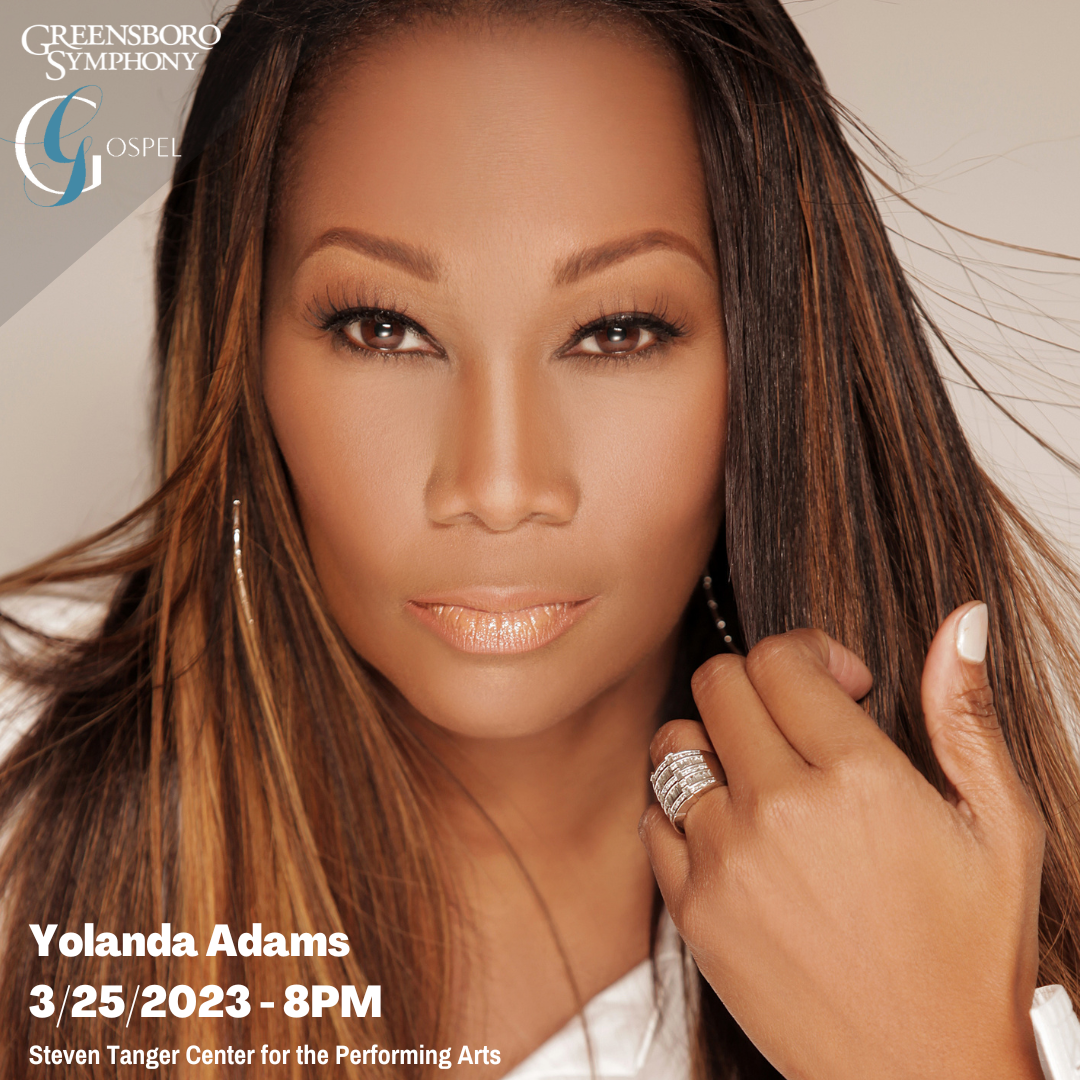 Yolanda Adams performs with the Greensboro Symphony
Yolanda Adams, the Queen of contemporary gospel music and winner of four Grammy Awards and sixteen Stellar Awards joins the Greensboro Symphony for an evening of healing, encouraging, and inspirational music!
Yolanda Adams will showcase her powerful voice and singular sound blending gospel, soul and jazz.
Greensboro Symphony Orchestra
Greensboro Symphony Community Gospel Choir
Henry Panion, conductor
Great seats still available! Call the GSO Box Office today: 336-335-5456 x 224 or at TicketMaster.com
About the Guest Artist:
Gospel legend Yolanda Yvette Adams is a world renowned singer, record producer, actress, entrepreneur, philanthropist, radio host of her own nationally syndicated morning gospel show and the proud mother of daughter, Taylor Ayanna Crawford.  Yolanda Adams, the eldest of six siblings was born in Houston, Texas.  She graduated from Sterling High School in Houston, Texas in 1979.  After graduating from Texas Southern University where she earned her degree in Radio and Television Broadcasting, she began a career as a school teacher and part-time model in Houston.  Yolanda began singing at the age of 16 with the Houston's Southeast Inspirational Choir affiliated with Outreach Missionary Baptist Church as a lead vocalist.  In 1986, Ms. Adams was featured on the Edwin Hawkins Music and Arts Seminar Choir release "Give Us Peace," with a performance entitled "My Trust Lies in You."  During one of Adams' spectacular performances, she was discovered by Thomas Whitfield and later signed with Sounds of Gospel in which yielded her first album "Just As I Am" in 1987. In 1990, she signed with producer/keyboardist Ben Tankard, and signed to his independent label, Tribute Records and released "Through the Storm."
The exceptionally educated and talented Ms. Adams has triumphantly carried the torch for contemporary gospel and inspirational music via 15 glorious albums and has one of the most powerful voices in any genre of music.  She has earned numerous accolades for her shining efforts, including the first American Music Award for Contemporary Gospel Artist, four Gospel Music Association Dove Awards, five Grammy Awards, sixteen Stellar Gospel Music Awards, seven NAACP Image Awards, three Soul Train Music Award, and five BET Awards.
In 2007, Ms. Adams embarked on a radio career with "The Yolanda Adams Morning Show," a program of her creation and ownership that can currently be heard on radio stations across the country. Adams was the first female nationally syndicated radio host with Radio One/Reach Media covering over 50 markets for 10 years.   On December 25, 2009, Ms. Adams made her acting debut performing on BET's "The Mo'Nique Show."
Faith, Love, Forgiveness, Protection and PRAISE.  These are just five of the ten gifts explored in Yolanda Adams' new power-filled inaugural book, "Points of Power." Inspired by the Points of Power segment from The Morning Show, Adams reveals her own personal experiences to show how the Bible will enlighten readers and provide them with insight and understanding to respond positively to life's challenges.
Ms. Adams served as a spokesperson for the FILA Corporation's Operation Rebound, a program that addressed the concern of inner-city school children.  Additionally, she has supported the following charities and foundations: Julia F. Thompson (Alpha Kappa Alpha Sorority, Incorporated – Mu Kappa Omega chapter's charitable foundation), NAACP, United Negro College Fund, MusiCares and National Park Foundation.  She used The Yolanda Adams Morning Show as a platform to promote causes and charities such as the 50 Million Pound Challenge, a health initiative geared toward African Americans, and the Houston-based Escape Center. In addition, Adams partnered with St. Jude's Children's Hospital and raised more than 1 million dollars via a telethon.  She has also worked with the U.S. Department of Health and Human Services' Office of Minority Health to bring attention to the health challenges facing black children, including lack of proper vaccinations and juvenile diabetes. Her own charity, the Voice of an Angel Foundation, Incorporated was founded in 2005, with a mission of establishing mentoring programs for underprivileged youth. Through her non-profit, she sponsored three Houston students to go to college affording them tuition for both their undergraduate and graduate degrees.  She also donated $20,000 to the Shape Community Center and to the Imani School to fund their playground.  In 2012, her non-profit sponsored and hosted The First Ladies Forum where she contributed over $100,000 honoring women across the United States for their significant contributions to their communities.  Adams also partners with the Disney Dreamers Academy along with Steve Harvey and Walt Disney Co. where 100 select high school students are inspired to dream big and get a jump-start on making their dreams come true.  Adams was also a part of the Get Out and Vote campaign for the past 16 years through President Clinton, President G. W. Bush and President Obama.  In addition, she toured with Michelle Obama with the Let's Move Campaign.  Adams also contributed over $25,000 to both Hurricane Katrina and Hurricane Harvey relief efforts."
In addition to the above noted ventures and charities, Ms. Adams has also pursued her own fashion line for taller women, called Yolanda's Clozet, and is a spokeswoman for the Columbia Card, a debit card marketed to church going African Americans.